Manufactured in July 1942 JRF-6B Bu0206
to RN FAA as BW803 ntu, FP500
Bolivian Aviation Corps 1942-1950
reg. N5548A April 1959
Cat Cay Airlines - Bahamas 1959-1963
Southeast Airlines - Miami, FL 1963-1964
Antilles Air Boats - U.S.V.I. 1966-1981
AAB ceased operations in 1981 /stored A. Hamilton Airport, St. Croix
Anthony Stinis, Ft. Lauderdale, FL 1984-1991 First Coast Aircraft
Douglas F. Martin - Boca Raton, FL 1991-1998
Tropic Bird Holdings Inc. - Boca Raton, FL 1998-2003 Tropical Bird Airways
Tuthill Corp. - Burr Ridge, IL 2004-2006 private
Patrick M. Sturges - Ft. Lauderdale, FL 2006-2014 Sturges Aircraft
​
more to come...
​
A new life for N5548A...
​
Chris Chambers has the nose section from the wheel well forward, flaps. ailerons, elevators and cowlings in his hangar in Ft. Lauderdale, and the rest of the aircraft is still stored in Ocala, Florida. The restoration will begin soon and will have Goose s/n 1150 completed in WWII Navy configuration. Once completed it will be with a new military history museum.
We will give you periodic updates on Chris's efforts.
​
Check out the website - Support this effort
Capt. Bill Mable at the first STX ramp at PanAm Alley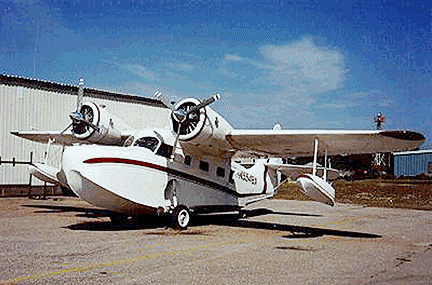 Alexander Farrelly with N5548A. This photo is from the October 1970 Ebony Magazine article about leadership in the U.S. Virgin Islands. Alexander Farrelly was a senator in the U.S.V.I. Legislature at the time. Others in the article were Cyril E. King, Francises Carmiera and Melvin H. Evans.