President-Tretheway Silver-Colbalt Mine Ltd.
photos posted with permission
Manufactured in December 1939 G21A
J.P. Bickell - Toronto CF-BQE 1940/41
Royal Canadian Air Force 1941-1945
Exported to the U.S. (U.S. Navy Surplus - BuAer 0217B)
Alaska Coastal Airlines 1945-1962 N48550
Alaska Coastal-Ellis Airlines 1962-1967
Alaska Airlines 1967-1972
Antilles Air Boats 1972-1981 (stored in STX until 1984)
Larry Teufel / Teufel Holly Farms, Inc.- Portland, OR 1988-2009
N48550 > N21LT > N48550
Strange Bird Inc. - Palm Beach, FL (Jimmy Buffett ) 2009-2014
​
FAA Form 337 - further documentation / misc.
Ownership / Transfers / Registrations / misc.
This photo was previously posted to N48550 page with photo credit unknown. I recently purchased the original slide from a seller from England on eBay. I rescanned at a higher resolution and reposted. It happens that the photo was taken the same month and year I arrived at AAB. I am glad that I was able to add it my collection.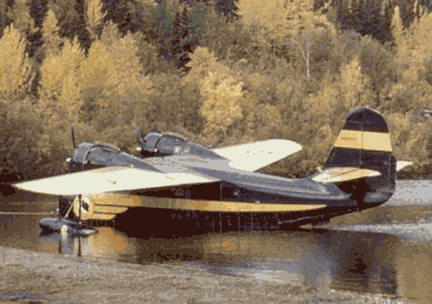 photo by Don "Bucky" Dawson
photo by Rodger L. Meadows